Incarceron - Catherine Fisher
Incarceron is a prison so vast that it contains not only cells and corridors, but metal forests, dilapidated cities, and wilderness. It has been sealed for centuries, and only one man has ever escaped. Finn has always been a prisoner here. Although he has no memory of his childhood, he is sure he came from Outside. His link to the Outside, his chance to break free, is Claudia, the warden's daughter, herself determined to escape an arranged marriage. They are up against impossible odds, but one thing looms above all: Incarceron itself is alive . . .
Vampire Chronicles - Anne Rice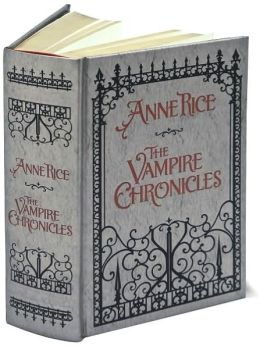 Interview with a Vampire
Here are the confessions of a vampire. Hypnotic, shocking, and chillingly erotic, this is a novel of mesmerizing beauty and astonishing force—a story of danger and flight, of love and loss, of suspense and resolution, and of the extraordinary power of the senses. It is a novel only Anne Rice could write.
The Vampire Lestat
Once an aristocrat in the heady days of pre-revolutionary France, now Lestat is a rockstar in the demonic, shimmering 1980s. He rushes through the centuries in search of others like him, seeking answers to the mystery of his terrifying exsitence. His story, the second volume in Anne Rice's best-selling Vampire Chronicles, is mesmerizing, passionate, and thrilling
The Queen of the Damned
In 1976, a uniquely seductive world of vampires was unveiled in the now-classic Interview with the Vampire . . . in 1985, a wild and voluptous voice spoke to us, telling the story of The Vampire Lestat. In The Queen of the Damned, Anne Rice continues her extraordinary "Vampire Chronicles" in a feat of mesmeric storytelling, a chillingly hypnotic entertainment in which the oldest and most powerful forces of the night are unleashed on an unsuspecting world.
Gameboard of the Gods - Richelle Mead
In a futuristic world nearly destroyed by religious extremists, Justin March lives in exile after failing in his job as an investigator of religious groups and supernatural claims. But Justin is given a second chance when Mae Koskinen comes to bring him back to the Republic of United North America (RUNA). Raised in an aristocratic caste, Mae is now a member of the military's most elite and terrifying tier, a soldier with enhanced reflexes and skills.

When Justin and Mae are assigned to work together to solve a string of ritualistic murders, they soon realize that their discoveries have exposed them to terrible danger. As their investigation races forward, unknown enemies and powers greater than they can imagine are gathering in the shadows, ready to reclaim the world in which humans are merely game pieces on their board.

Gameboard of the Gods, the first installment of Richelle Mead's Age of X series, will have all the elements that have made her YA Vampire Academy and Bloodlines series such megasuccesses: sexy, irresistible characters; romantic and mythological intrigue; and relentless action and suspense.
Comic-Con (Jensen Ackles/Jared Padalecki cover)