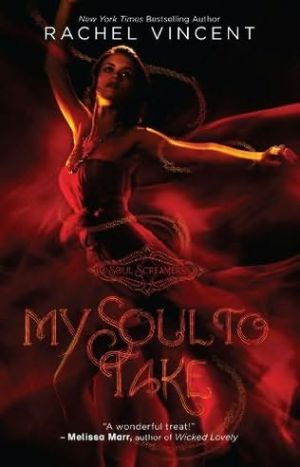 She doesn't see dead people. She senses when someone near her is about to die. And when that happens, a force beyond her control compels her to scream bloody murder. Literally.

Kaylee just wants to enjoy having caught the attention of the hottest guy in school. But a normal date is hard to come by when Nash seems to know more about her need to scream than she does. And when classmates start dropping dead for no apparent reason, only Kaylee knows who'll be next.
To be honest, I didn't like this book at first. Maybe it's because I had such high hopes for it when I first started it, or maybe I was still in one of those "all books that I read are going to be horrible because I just finished reading Divergent by Veronica Roth" states of mind. For me, this book was looking pretty dull...until you get about 150 pages in. Then, I really got into the story and the characters, and, most importantly, the plot thickened.
After the first 150 pages, I just could not put this book down. The introduction of a new character (whom I absolutely love, by the way) along with some fantastic character development left me in a trance like state. The characters and their problems became more "real" to me, and a few side characters became really important to the story--which I always love. I still didn't like the whiney attitude that Kaylee has, and I also didn't like the fact that she was all, "This person told me not to, so I shouldn't....but I'm going to do it any way and then feel bad for something that I was told not to do in the first place...la-di-da-di-da." Nash still wasn't as interesting to me as he could have been. I just could not connect with him at all, but I absolutely loved Tod and Keylee's Uncle, I felt that they had the most depth of the characters, (without giving away the ending, that is.)
If you haven't read My Soul to Take, please, please do, although it may be boring at first, it does get better. I am do happy that I started the Soul Screamers reading challenge, and I cannot wait to get my hands on My Soul to Save.